Starship pierced through clear south Texas skies on Saturday morning, for what turned out to be an eight-minute-long mission. The megarocket failed once again, but SpaceX achieved significant progress in various critical mission objectives.
It sounds counterintuitive, but SpaceX improves its vehicles through failure. While Saturday's launch might not have met our full expectations, it will certainly yield a trove of data that will aid SpaceX in further advancing its groundbreaking rocket technology. The launch, as expected, also produced some stunning visuals. Here are some of our favorite images from the IFT-2 mission, and what we noticed during this important second flight test.
Picture perfect
Starship blasted off at 8:03 a.m. ET from SpaceX's Boca Chica launch facility on Saturday, November 18. Two things struck me as I watched the early stages of the IFT-2 mission: the rocket took considerably less time to clear the tower compared to the first flight on April 20, and it also churned out less dust, the result of the newly installed water deluge system. For this test, SpaceX experimented with a faster start-up sequence for the 33 Raptor engines, which aimed to streamline the launch process.
Make rocket go now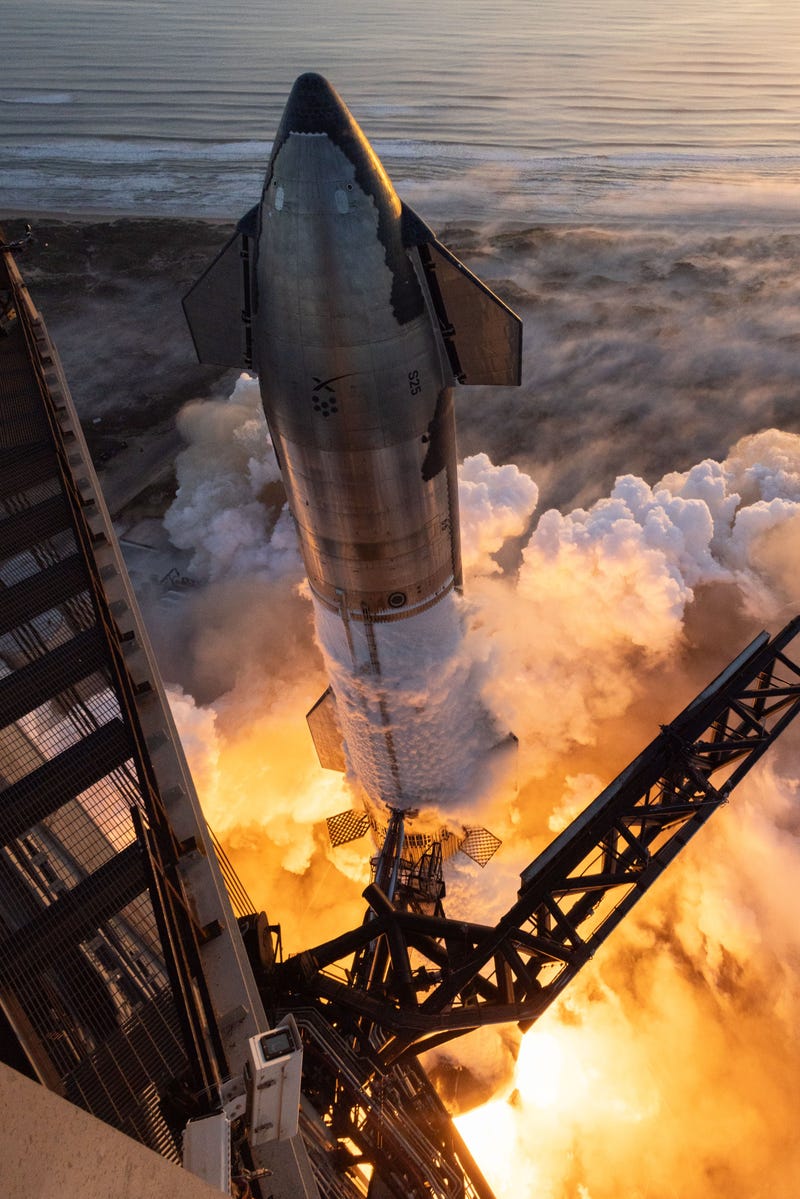 The launch seemed so much more controlled this time around. In addition to taking less time to clear the tower, the rocket's trajectory was discernibly more true and without the severe degree of drift seen during the first launch—possibly the result of a newly implemented electronic vector control system.
The water deluge system worked
The newly installed water deluge system kicked in as planned, suppressing the powerful blast as the 397-foot (121-meter) tall Starship ascended. This infrastructure was noticeably absent during the first launch, causing damage to the launch mount and spreading debris across a wide area.
All 33 Raptors alight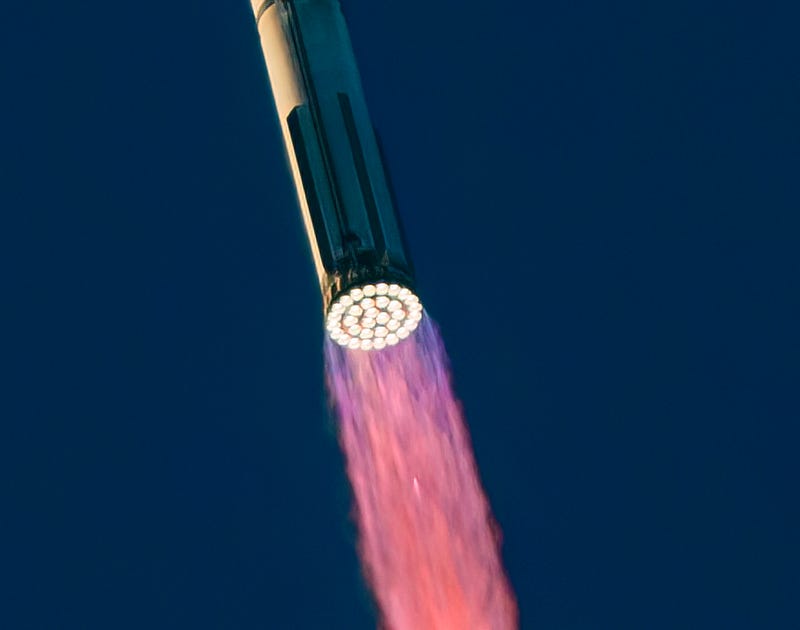 The performance of the Raptor engines appeared to be nominal, at least until the boostback burn. Unlike the debut launch, in which at least six Raptor engines failed, all 33 Raptors ignited and stayed that way until stage separation. Raptor reliability was an open question going into Saturday's mission, but given how the flight unfolded, SpaceX can breathe a little easier.
Impressive power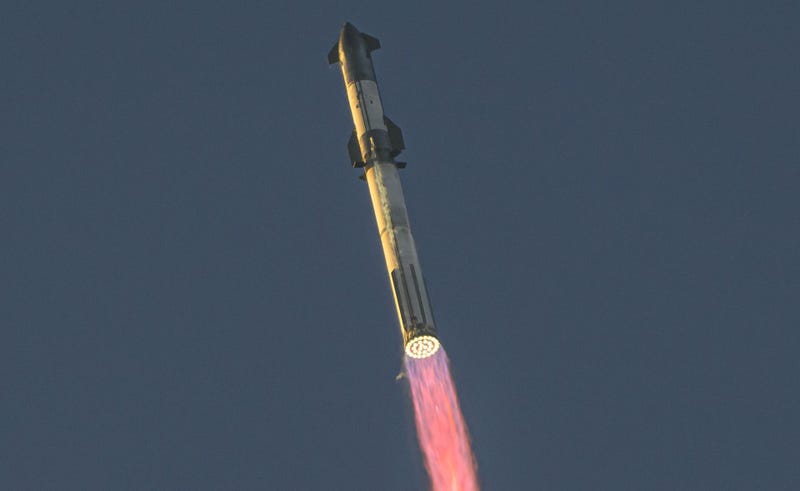 A single Raptor engine produces around 507,000 pounds of force, so with all 33 Raptors working simultaneously, Starship exerted approximately 16.7 million pounds of force at lift-off, making it the most powerful rocket to ever take flight. By contrast, NASA's Space Launch System (SLS) produces 8.8 million pounds of force (and it remains the world's most powerful operational rocket).
Missing heat tiles
SpaceX continues to struggle with Starship's thermal protection system, which is meant to protect the upper stage during atmospheric reentry. Batches of tiles keep coming off during launch, as was the case again on Saturday, but as SpaceX's Zack Golden pointed out on X, the company expects to roll out a solution during a future flight.
NASA watching
"Congrats to the teams who made progress on today's flight test," NASA Administrator Bill Nelson said on X. "Spaceflight is a bold adventure demanding a can-do spirit and daring innovation. Today's test is an opportunity to learn—then fly again. Together NASA and SpaceX will return humanity to the Moon, Mars & beyond," he added. The space agency has a vested interest in Starship, contracting SpaceX to leverage Starship as a human landing system for crewed Artemis missions to the lunar surface. NASA is undoubtedly happy that SpaceX is making progress, but I'm sure they would've preferred a successful mission and the absence of exploding rocket stages.
Methalox plume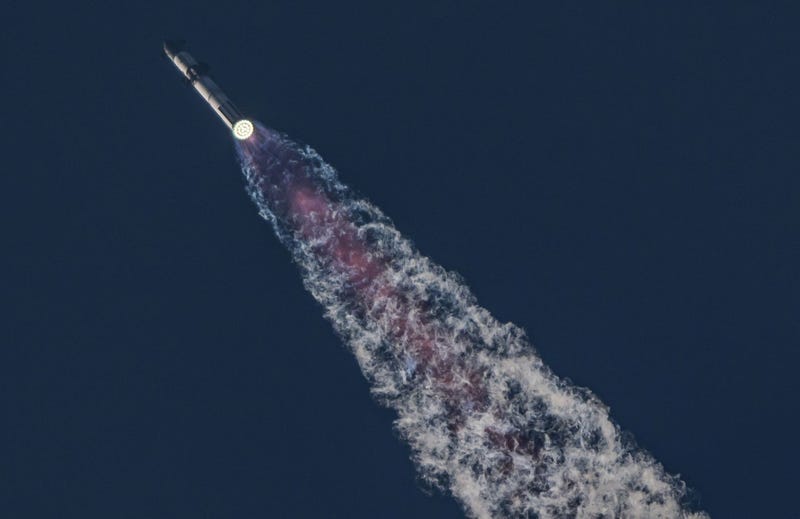 Raptors run on methalox—a mixture of liquid methane and liquid oxygen. This results in a plume that varies in color from blue to light orange or white—a sign of clean, efficient combustion. The exhaust, primarily consisting of carbon dioxide and water vapor, is cleaner and less sooty compared to other hydrocarbon-fueled engines. In the Earth's atmosphere, the high water vapor content in the exhaust creates contrails, while in space, the plume spreads out widely due to the absence of atmospheric pressure. These engines are environmentally friendlier and are being considered for future Mars missions due to methane's potential for synthesis on Mars.
Hot staging is so hot right now
SpaceX achieved a major milestone on Saturday with the successful execution of the hot staging procedure and full-stage separation. Nothing like this has ever been done with a rocket of this size, with SpaceX continuing to push the envelope forward.
A partial success?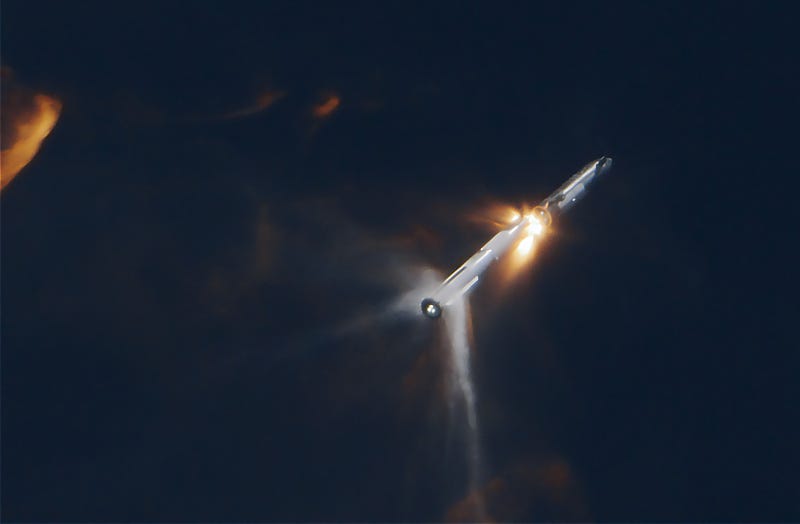 That said, stage separation could be called a partial success. The upper stage, engaging its Raptor engines while still attached to the booster, managed to uncouple itself and fly independently. During this process, the booster shut down all but three of its engines as planned. Additionally, the booster executed a boostback burn and began its descent back to Earth.
Explosions in the sky
However, the Super Heavy booster unexpectedly exploded around three minutes and 17 seconds into the mission, potentially due to the extra strain caused by the hot-staging process. In the moments prior to the explosion, and as the booster completed its flip maneuver, multiple Raptor engines encountered issues, failing to reignite while others prematurely shut down, according to Space Explored. Visible flashes around the booster's rear coincided with engine shutdowns as indicated on SpaceX's graphic display. Sequentially, these engines malfunctioned until the booster experienced a rupture. While SpaceX has not verified whether Booster 9's flight termination system was activated, the probability that this failure was connected to a forceful shutdown of a Raptor engine seems quite high, Space Explored explained. SpaceX will need to devise a solution, whether it be a modified hot staging technique, the implementation of new hardware, or a combination of both.
Level unlocked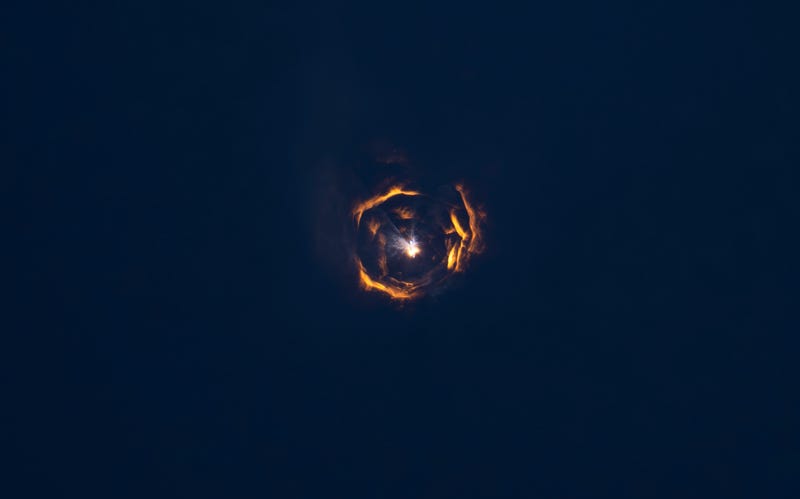 Regardless, stage separation represented a major milestone for the company, as this was the key goal of the second test flight.
The upper stage—surprisingly—failed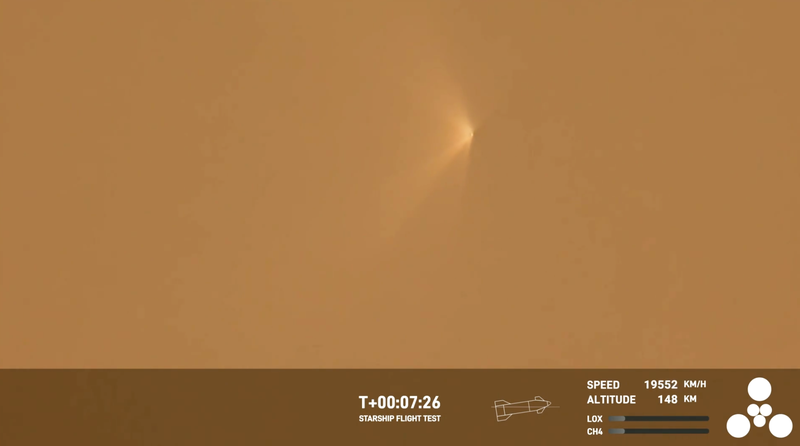 Free of the booster, the upper stage, designated S25, continued to climb. As it approached SECO, or Second Engine Cut Off, it suddenly disappeared from view. "We think we may have lost the second stage," SpaceX engineer John Insprucker said during the SpaceX broadcast. "What we believe right now is that the Automated Flight Termination system on the second stage appears to have triggered very late in the burn as we were headed downrange out over the Gulf of Mexico."
Debris cloud
The upper stage was supposed to fly as far as Hawaii and plunge into the ocean 90 minutes into the mission, but it instead exploded above the Caribbean near Turks and Caicos. That said, the vessel, climbing to a maximum height of 92 miles (148 kilometers), did manage to reach suborbital space. The failure of the upper stage so early in the mission is perhaps the most surprising outcome of the test, as SpaceX successfully ran a series of suborbital tests from 2019 to 2021. No reason has been given for the failure, but I'll be very interested to find out the cause.
Launch mount unscathed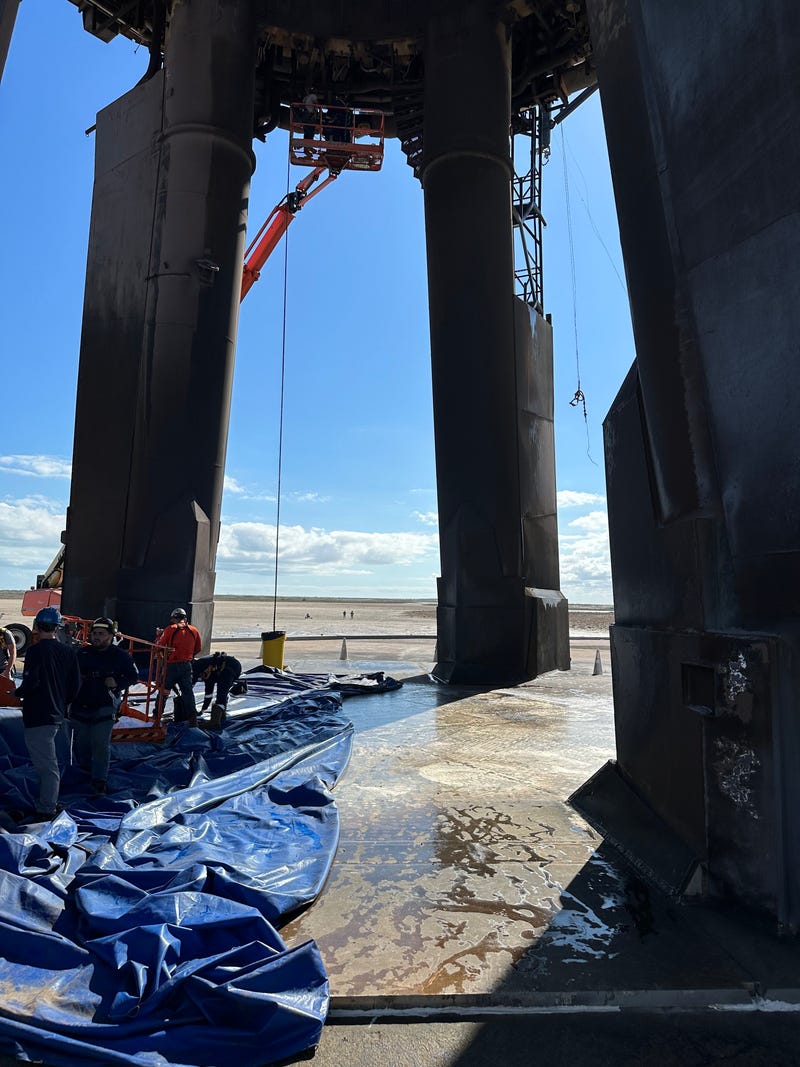 SpaceX shared this view of the launch mount after the test, showing it to be in a good state of affairs. Following the April 20 test, and without a deluge system present, the rocket formed a gigantic crater.
Looking ahead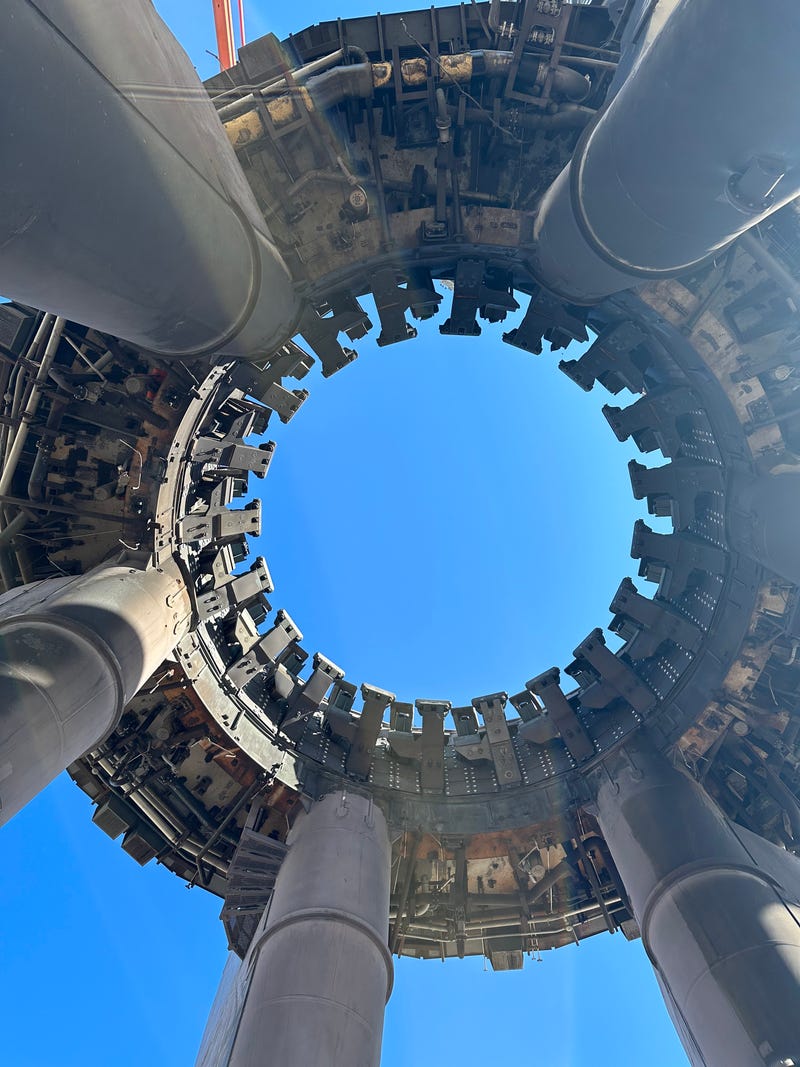 This is another view of the launch mount, again showing it to be in good shape. Hardware for the third Starship test flight should be ready to fly in about three to four weeks, company CEO Elon Musk said on X, adding that three ships are in final production. For a third test to happen, however, SpaceX will need to procure a new launch license from the FAA. The company will have to submit a mishap investigation report to the regulator, which is standard practice when anomalies occur. Given the good state of the launch mount and the apparent good performance of the self-destruct system, this shouldn't take long.
---
The Cheapest NBN 50 Plans
It's the most popular NBN speed in Australia for a reason. Here are the cheapest plans available.
At Gizmodo, we independently select and write about stuff we love and think you'll like too. We have affiliate and advertising partnerships, which means we may collect a share of sales or other compensation from the links on this page. BTW – prices are accurate and items in stock at the time of posting.