Roccat recently released two gorgeous mechanical gaming keyboards as part of its Vulcan series: the Vulcan II and Vulcan II Mini Air. Both models showcase vibrant RGB lighting and robust construction, with the former being a wired variant and the latter presenting a TKL (tenkeyless) design.
The Vulcan II exudes flamboyance, embodying a spectacle of colours, though its aesthetics might overshadow its performance. It's tailored for gamers who want to spice up their desk.
A Stylish Desk Upgrade
The Vulcan II is undeniably a beautiful keyboard and well worth its $259.95 price tag. It not only offers brilliant RGB but also features a well-made, sturdy, robust body that exudes sophistication. The plastic body is coated with a shiny aluminium plate, which gives the keyboard its durable build and good looks.
The low-profile keys are quite well-spaced, and there is a lot of real estate on the keyboard's surface for folks who prefer that. Unlike the Vulcan II's TKL (tenkeyless) version, you also get a full-sized numpad and dedicated media keys. Roccat has done a pretty good job at the latter. On the top-right, far enough for you not to run into them accidentally, there are three buttons for media playback and a very clicky volume dial, which also functions as a mute button when pressed.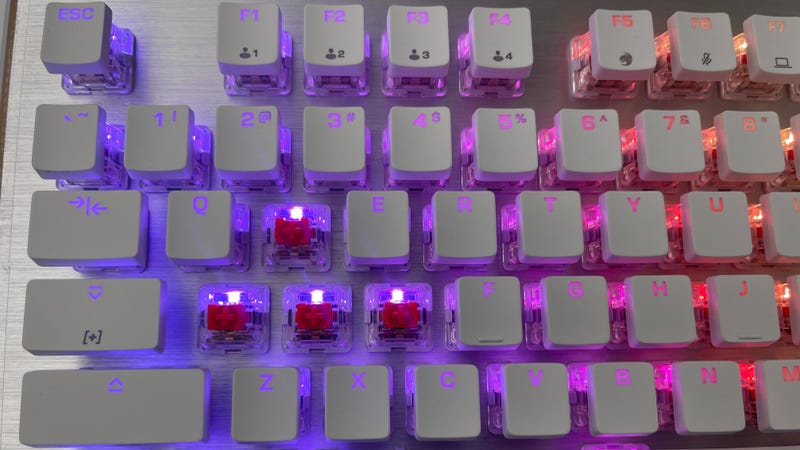 The Vulcan II does a pretty decent job of being that fancy-looking and not embracing the typical gamer aesthetic. You get a stunning RGB light show thanks to Roccat's AIMO per-key RGB lighting. The transparent switch housing only makes the lighting especially pop. The 4MB onboard memory allows you to store up to four lighting profiles at once. All of this is tweakable through the Roccat Swarm companion app, which is, sadly, only compatible with Windows.
The RGB on the Vulcan II is so bright it could light up a dark room. I turned it all the way up only for a brief moment for testing, but I had to lower it to be able to work without distraction quickly. It is immensely vivid and easily stands out as the keyboard's best feature. You also get tiny status indicator lights under the arrow keys that look equally pretty and were very helpful in letting me know whether or not the caps lock was turned on.
The Vulcan II ships with a detachable palm rest. Honestly, it doesn't add much to the overall user experience. The palm rest is way too flat and completely devoid of any cushioning. It isn't very ergonomically designed, feels like an oversight, and I'd rather rest my wrist on my desk instead.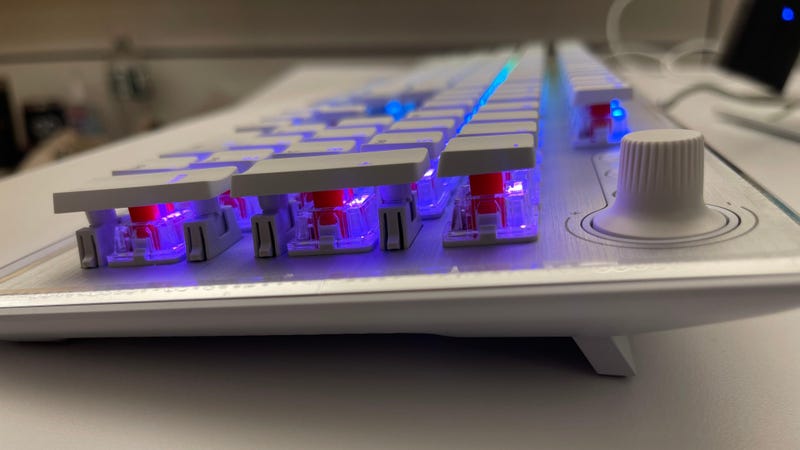 There's a pair of kickstands on the underside of the Vulcan II. They're well-made, sturdy, and very useful in terms of the range of height they offer. I had them open all the way out throughout my time with it.
The Vulcan II weighs 2 lbs without the palm rest and 2.5 lbs with it, giving it a nice heft and putting it on par with some of the best mechanical keyboards we've used this year.
Vulkan Roccat II Performance
You get all the bells and whistles of a mid-range gaming keyboard, such as full-key NKRO (N-Key Rollover) and 100% anti-ghosting, which basically means that it will register all of your key presses at once. The Vulcan II uses Titan Red 2 linear switches, which are best known for their consistent and smooth input and relatively quieter operation, as opposed to brown tactile switches that are supposed to have a more 'bumpier' feel than linear ones, and blue clicky switches that are known for their, you guessed it, clicky and loud operation.
If you're not one for a keyboard with a clicky and loud output, you're not going to have a lot of fun with the Vulcan II. This keyboard is definitely not what I'd call a silent keyboard. It's moderately loud, which is exactly what's expected of linear switches.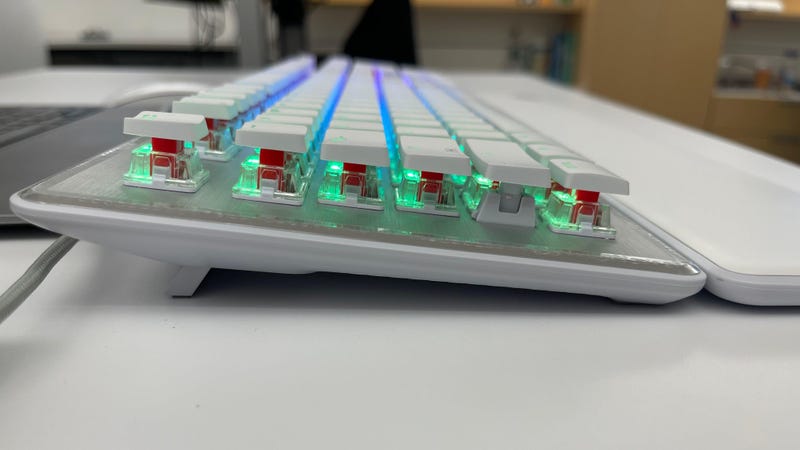 Another thing that's expected of linear switches is, as mentioned, their smooth and consistent input. The Vulcan II does offer that, but you can't help but feel that your fingers are slipping on its overly–smooth ABS keycaps. The surface of these keycaps is also very slightly curved, which adds to the annoyance.
It took me quite a while to get used to typing on this keyboard. The first few minutes were me trying to grapple with the keys. I scored an awful 32 words per minute with a ridiculously low 76% accuracy on my first MonkeyType typing test that I took after struggling with the keys for around an hour or so. For context, I scored 63 words per minute with 89% accuracy in the test that I took right after this one on my MacBook Air. But I got used to typing on it surprisingly fast. I wrote this whole review on the Vulcan II, and within just a few hours, I scored 61 words per minute with a 94% accuracy on the keyboard.
One small gripe I have with the Vulcan II is that its switches are not hot-swappable, which means they're permanently soldered in place. That's not a dealbreaker per se, but it is always a nice feature to have that's popping up on more premium mechanical keyboards.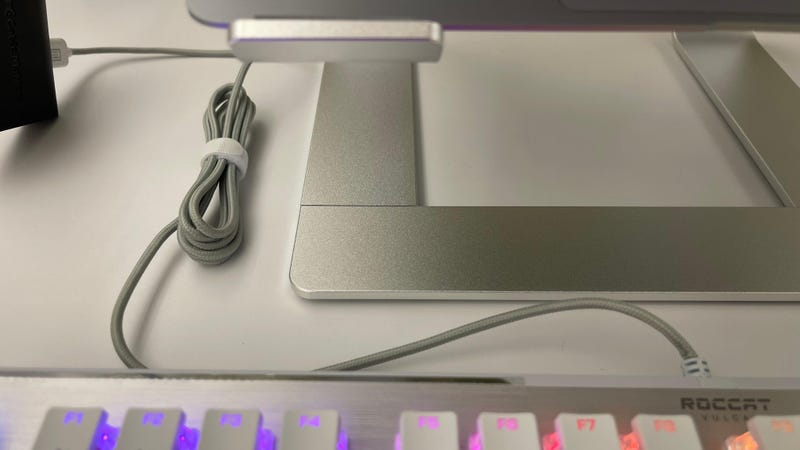 This wired keyboard comes with a 1.8-meter non-detachable USB-A cable, so make sure you're okay with a cable that long lying on your desk at all times before you go for this. You'd also want to make sure that you're okay with investing $259.95 in a keyboard with ABS keycaps. Some people prefer PBT keycaps because, as compared to ABS, PBT is far more robust, so it both wears more slowly, and the pattern of wear is more even, so the keycaps stay usable and pretty for longer. Additionally, PBT is more resistant to degradation caused by UV light. UV is the main cause of vibrant keycaps losing their colour over time.
Should You Buy the Roccat Vulcan II?
If you're the type who prioritises a flash over function, definitely go for the Vulcan II. But know that there's a chance you might regret not prioritising a stable and firm typing experience instead. As I said, the keys do feel a bit slippery, and there's an undeniable learning curve on this keyboard. The 'ideal' feel of a keyboard is a very personal preference, and some might enjoy the overly-smooth experience. Ultimately, it boils down to whether you're into the textured PBT feel or the smooth ABS one because Roccat does a pretty decent job at all the other areas on the Vulcan II.
---
The Cheapest NBN 50 Plans
It's the most popular NBN speed in Australia for a reason. Here are the cheapest plans available.
At Gizmodo, we independently select and write about stuff we love and think you'll like too. We have affiliate and advertising partnerships, which means we may collect a share of sales or other compensation from the links on this page. BTW – prices are accurate and items in stock at the time of posting.