You probably don't care if some TikTok celebrity knows you checked out their page. Out of the millions of people who do, you'd get utterly lost in the shuffle. You probably wouldn't care if your good friends know you looked at their TikToks, either. Hell, maybe they ask you to for the views.
But they're not why you're here. You're here because of the accounts you don't want knowing you visit. Look, I'm not here to judge. I'm just here to give you the facts: It's easy to confidently look at any account on TikTok without anyone the wiser, so long as you know what you're doing.
TikTok used to be anonymous
This wasn't always something you had to think about. With other social media platforms, like Facebook or Instagram, you know there's no way for someone to know you checked out their page. Look at a story? Sure, that's reported. Screenshot a snap? The ghost will tell on you. But simply visiting someone's page is an anonymous exploit.
And so it was on TikTok, until "profile view history" hit the scene. This feature is a two-way street: It allows you to see all the accounts that visit your page, something many a curious TikTok user likely wants to know, at the expense of knowing that other people will be able to see when you visit their page. For some, it's a fair trade, especially those who don't mind being open books on social media. But plenty of you are not open books, and would prefer to stay incognito on TikTok.
How to stay private on TikTok
The key thing to do to make sure you remain private while browsing other people's TikToks is to make sure profile view history is always kept off. To do so, go to your profile, then tap the pair of shoes at the top of the screen. If you see the "Turn on profile view history?" screen, it means the feature is turned off, and you can browse freely with no one the wiser. However, if the feature is on, you'll need to hit the settings gear in the top-right, then disable the toggle next to "Profile view history."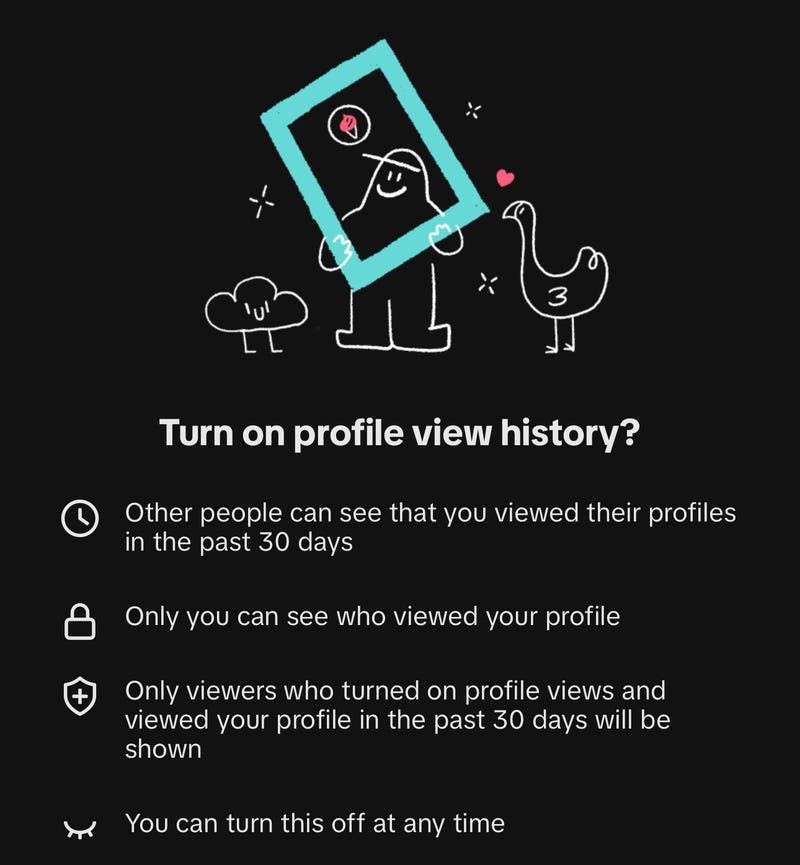 Do TikTok profile views turn on by themselves?
This is something I've experienced before, and others have, too. It's not clear how often it happens, or if it still does, but it does seem like profile views have switched from off to on in the past. If you're concerned, tap those shoes in your profile from time to time to double-check that the feature is off.
Don't forget to clear your TikTok history, too
Keeping profile views off is great 99 per cent of the time, but if someone with access to your smartphone wants to know what you've been watching, they're going to find out. That's because TikTok saves a record of both your search history and your watch history, so you'll want to clear those if you want to stay truly anonymous in all cases.
To clear your entire search history, go to your profile, hit the hamburger menu, then head to Settings and privacy > Activity center > Search history. Here, choose Select, then Select all search history, then hit Delete All. If you're surprised by some of the results here, remember that TikTok saves any time you tap on a searchable comment as part of your search history.
To clear your watch history, go to Settings and privacy > Activity center > Watch history. Hit Select, then Select all watch history, then Delete all.