Need help figuring out how to program smart lights to turn on at dusk? You can ask AI for help with that. Google's generative AI-powered feature called the "Help me script" started rolling out to beta testers this week. It can help you figure out robust home automation. All you have to do is copy and paste code.
The "Help me script" went live a few days ago for anyone enrolled in the preview program for the new Google Home app makeover. (The long-awaited redesign is still in its early stages.) It's accessible only through a desktop browser at home.google.com, under the Automations tab. If you're in the program, the generative AI bot will sprout up along the left-hand side of the screen when you enter the script editor mode. But before entering a prompt, Google will ask you to agree to specific terms and conditions.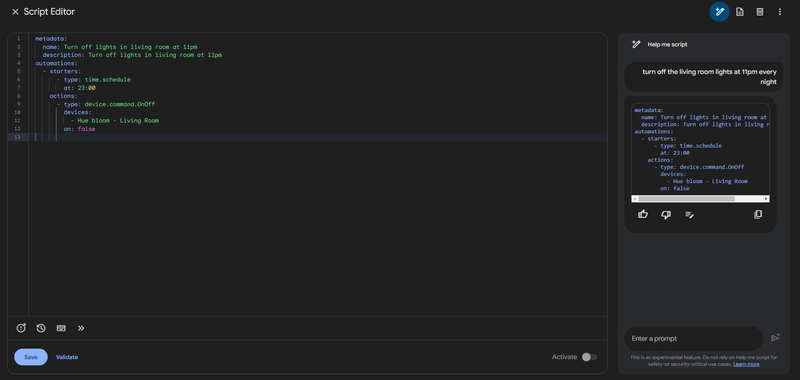 Last month, Google teased that the "Help me script" would arrive to help program familiar smart home routines. Though not technically live to the public, the feature is particularly timely considering Google spent the last year selling us on its AI capabilities. Google granted me early beta access to it, though it took me a few days to get the courage to tinker with the ability.
Fortunately, you don't need any previous knowledge of code to work with the "Help me script" editor. It's as easy as copying the text block and then pasting it directly into the script editor. Just make sure to erase the directions that are in there before you do so—the screen should look like the screenshot above.
Coding can be overwhelming for someone like me, who hardly ever touches it. The "Help me script" aims to make the Google Home script editor more approachable, thus encouraging more use. Once I figured out what was happening, I used AI to translate simple home commands. I typed them in just as I would dictate them by voice to the Google Assistant devices around me, namely the Nest Audio and Pixel 8. I could also access and edit the code from the Google Home mobile app.
You don't have to be specific with the code generator to spit out something that works. But whatever you type out has to work in the real world. I asked the "help me editor" to write me something that would turn off my office lights at 8 p.m., but not on Wednesdays when I podcast. I kept getting an error for a smart bulb that's been giving me trouble for a while. But rather than tear my hair out trying to learn YAML, the markup language used in the script editor, I went to the Google Home app on my smartphone and programmed the routine as I would have done any other time. It was definitely more tedious, but I didn't have any errors at the end of it.
All this is to say that even with a helpful AI-infused script editor, the smart home remains annoying to maintain. If you enjoy tinkering with code and connected gadgets, you can play with the "help me editor" by enrolling in the Google Home public preview.
---
The Cheapest NBN 50 Plans
It's the most popular NBN speed in Australia for a reason. Here are the cheapest plans available.
At Gizmodo, we independently select and write about stuff we love and think you'll like too. We have affiliate and advertising partnerships, which means we may collect a share of sales or other compensation from the links on this page. BTW – prices are accurate and items in stock at the time of posting.