Students, teachers, and vintage TV screencappers, the Chrome browser has a new feature that makes taking screenshots of scenes easier than before. Google used a blog post about helpful classroom tools to subtly announce the ability to copy a frame from a video. It's available in the latest release of Chrome and will roll out to everyone this week.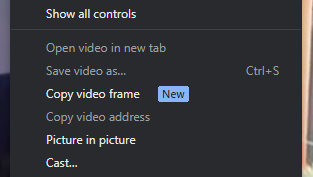 Here's how it works: pause the video and right-click to open a menu, then select the option to Copy Video Frame when watching a video embedded on a page. Your clipboard will take a high-resolution screenshot and omit extras like the video title and play and pause buttons, but you'll have to paste it somewhere for safekeeping before you copy the next thing. I've only managed to get it to work on Reddit, and that's if the video isn't a YouTube embed. It doesn't work on Twitter, Instagram on the web, or the Internet Archive either, and I'm assuming that's because of copyright. I asked Google if DRM affects the ability to copy a frame and await a response.
Google bills this as helpful for capturing frames for a classroom lecture. I plan to use it for different reasons. The ability to easily export a frame will benefit archiving projects involving screen captures of historical footage and old TV shows. It will also help in publishing stories, as I often go to great lengths to extract a screenshot from a video with the proper resolution. But that's assuming this ability will eventually be available for YouTube.
Google pushed out this feature more than a week after another rival Chromium-based browser. Microsoft shipped the same capability to the Edge Browser in its latest update. It also has the same limitations for capturing screenshots as the Chrome browser.
If you want to copy a frame from a video in your Chrome browser, ensure you're on the latest version of M116. You can look this up in Settings > About Chrome for additional details. I'm running version 116.0.5845.141, though XDA Developers is running the same version and has yet to see the feature.
---
The Cheapest NBN 50 Plans
It's the most popular NBN speed in Australia for a reason. Here are the cheapest plans available.
At Gizmodo, we independently select and write about stuff we love and think you'll like too. We have affiliate and advertising partnerships, which means we may collect a share of sales or other compensation from the links on this page. BTW – prices are accurate and items in stock at the time of posting.