Everyone's talking about how creepy generative AI is, so Google Photos won't let you edit pictures of your driver's license, ID cards, or anything personally identifiable. If you try to use the Magic Editor with a compatible Pixel device, Photos pops up a window to let you know it can't complete the action since it may violate its terms of use.
Google might expand on that warning in a future iteration of the Photos app. Android Authority went code sleuthing in the latest Google Photos APK, version 6.60, which started rolling out on Nov. 1. They found evidence of a specific error message that says, "Magic Editor can't edit photos of ID cards, receipts, and other documents that violate Google's GenAI terms." It links to the terms of use and suggests you try Magic Editor on a different photo.
I tried this out on my Pixel 8 with the many photos I have of my driver's license and Passport. I selected only the part of my headshot for Magic Editor to play with, and it outright refused via a dialog box saying that Magic Editor couldn't "complete action" on a photo of my card. I'm curious what it would have done if it attempted anything because the image is a bad one, with half the card taken up by a cast shadow and part of my forehead missing because of glare. But today is not a day that we will find out.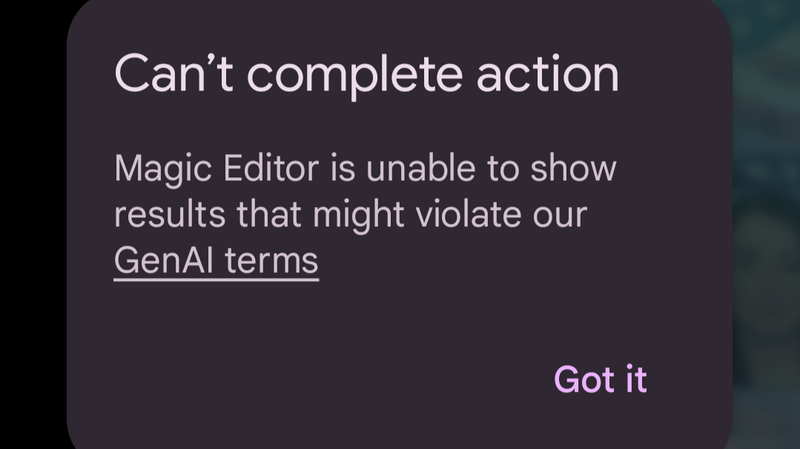 I did reach out to Google to ask about the prompt and will update you when I hear back. I also tested the Magic Eraser feature on the Pixel 8 Pro. I got the same prompt that Android Authority shows in its screenshots, which included the new vernacular referencing ID cards.
There is trepidation right now about the global foray into AI-powered editing. The fear seems centered chiefly around folks "faking" official documentation for nefarious purposes, like swapping out a photo on an ID card to gain access or buy something online. While those things happened in the past before artificial intelligence made it more accessible, the point was that it wasn't so easy to do.
Android Authority may have also found code that suggests text-prompt-based image generation is on the way to Google Photos, but that's no surprise. If you own a Pixel 8/8 Pro, you can technically "remix" a photo now using Magic Editor and make an entirely new image without any additional context. Head into Magic Editor and ask it to stylize your photo. You'll see that machine get to work.
---
The Cheapest NBN 50 Plans
It's the most popular NBN speed in Australia for a reason. Here are the cheapest plans available.
At Gizmodo, we independently select and write about stuff we love and think you'll like too. We have affiliate and advertising partnerships, which means we may collect a share of sales or other compensation from the links on this page. BTW – prices are accurate and items in stock at the time of posting.