As if the hype around AI couldn't get any more exasperating, Coca-Cola had to hop on the bandwagon. The massive beverage company has tapped artificial intelligence to serve as its advisor in developing a new flavour of its titular soft drink. Naturally, Gizmodo had to get to the bottom of it (the soda bottle) and the results were… unsurprising.
You ever close your eyes and expected a punch in the mouth, but received a slight flick on the nose? Drinking Coke's Y3000—short for "Year 3000″—flavour is like that. The tagline "Futuristic Flavored" may have you expecting bold flavours of a prosperous tomorrow, but that couldn't be more off-base. The first time the bubbling liquid hits your tongue you expect the same acidic, carbonated sensation as a regular Coke, but the drink slithers to the back of the mouth and sits there, broiling with a numb triviality across your tastebuds. And then the flavor is gone, leaving you with a vague aftertaste of berries and sugar.
Thanks to the magic of AI, Y3000 is a different version of the same old taste that lacks any hint of novelty, and unlike the infinite number of Oreo flavors, there's not even an "I have to see what this tastes like" impetus to pick Y3000 off the shelf. It's just buzzwords, not buzzworthy.
Coca-Cola's Y3000 is bad. Don't drink it.
Kevin Hurler: I'm not a big soda guy, having trained my taste buds on water and the occasional soft drink for the better part of the last six years. As such, I thought maybe my flavour receptors were simply underdeveloped as the first sip of Y3000 hit my tongue—it wasn't until my co-writer Kyle Barr reiterated my concerns that we came to the same conclusion that the gimmicky beverage simply fizzled out with no pop. More simply: it was just bland.
While the Coke was cold upon first taste, it did warm up a smidge in its commute from Soho to Midtown Manhattan. As such, it was only fair to taste-test the beverage again with some ice after our initial trial run. Believe it or not, it was even more bland when properly chilled. Each bottle of the soda was $US1.99 plus tax and rarely does such an amount feel like a waste to me, but Y3000 was all bark and no bite.
Kyle Barr: My expectations were low, but Coca-Cola bottomed me out. Should we have suspected any less? AI is notoriously terrible at coming up with recipes, whether that's alcoholic cocktails or money-saving meals that won't outright kill you. Chatbots like OpenAI's ChatGPT and Google's Bard don't have any inkling of the outcome of their recipes. They simply know what ingredients have sat alongside each other in the past, so it aggregates what may work well together. If Y3000 was actually developed alongside AI, one can imagine Coca-Cola might have needed to make some very important modifications to the recipe to actually make it edible.
And even after all that effort, all the silly branding, and digitized logo design, the flavour is bad. Y3000 is bad. Don't drink it.
The AI-generated soda also comes with an AR experience
It's not enough to just release a soda flavour anymore: Coca-Cola has also been touting its Y3000 augmented reality experience. Scanning the QR code on the soda bottle will lead to a web app that uses photos you take to generate an augmented reality peek into the year 3000. What you get is the same glossy images any half-assed AI image generator might spit out, but these snapshots feature hyperrealistic captures of, for example, a utopian city (based on a photo of New York) and a portrait of some colourful tchotchkes (based on a photo of an office desk).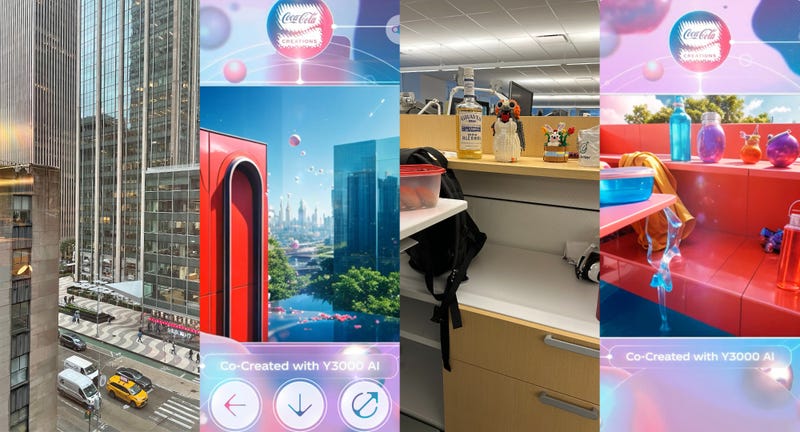 Coca-Cola announced the flavour in a September 12 press release, with senior director of global strategy Oana Vlad claiming that the company wanted to "explore the concept of what a Coke from the future might taste like." If Coke from the future tastes basically non-existent, we'll stick to the organic pleasures of H2O.
---
The Cheapest NBN 50 Plans
It's the most popular NBN speed in Australia for a reason. Here are the cheapest plans available.
At Gizmodo, we independently select and write about stuff we love and think you'll like too. We have affiliate and advertising partnerships, which means we may collect a share of sales or other compensation from the links on this page. BTW – prices are accurate and items in stock at the time of posting.