A24's new unicorn murder comedy whips up a hell of a cast. Eli Roth talks about pushing the far end of the R-Rating for Thanksgiving. See the Hunger Games begin in a new clip from Ballad of Songbirds and Snakes. Plus, get ready to see more from the next Ghostbusters. Spoilers now!

Death of a Unicorne
Bloody-Disgusting reports Richard E. Grant, Téa Leoni, Will Poulter, Anthony Carrigan, Sunita Mani, Jessica Hynes and Stephen Park will star alongside Paul Rudd and Jenna Ortega in Death of a Unicorne, a dark fantasy/comedy at A24 boasting a score from John Carpenter, Cody Carpenter and Daniel Davies. Directed by Alex Scharfman and produced by Ari Aster, the story concerns a father (Rudd) and daughter (Ortega) who "accidentally hit and kill a unicorn while en route to a weekend retreat, where his billionaire boss (Richard Grant) seeks to exploit the creature's miraculous curative properties."
---
Robin and the Hood
According to THR, Naomie Harris, Gwendoline Christie, Darcey Ewart and Mark Williams will star in Robin and the Hood, a family adventure film from director Phil Hawkins (Prancer: A Christmas Tale). Based on a script by Stuart Benson and Paul Davidson, the story follows "the tenacious 11-year-old Robin (Ewart) and her loyal band of friends, called 'The Hoods,' for whom the patch of overgrown scrubland at the end of their cul-de-sac is a magical kingdom. Sticks and bin lids have become swords and shields, drones have become majestic eagles, and the hippy lady in the forest (Christie) is a terrifying witch. The only thing limiting their colorful imagination is the prospect of losing their kingdom forever. When the slippery property developer Clipboard (Harris) turns up and dazzles the parents of the area with promises of health spas and day-care facilities, Robin and The Hoods' world is faced with an existential threat. Despite the children's best efforts, their protests fall on deaf ears. When their parents can't see the wood for the trees, Robin and her friends take matters into their own hands to defend their kingdom."
---
Rosario
Variety has word David Dastmalchian, José Zúñiga, Diana Lein, Paul Ben-Victor, Emilia Faucher and Emeraude Toubia will star in Rosario, the feature debut of Colombian director, Felipe Vargas. Adapted from a script by Alan Trezza, the story concerns the titular Rosario (Toubia), a "successful Wall Street stockbroker who is trapped in her estranged grandmother Griselda's apartment during a snowstorm. Griselda has died, and supernatural forces possess her corpse. Rosario, now the target of a deadly family curse, must battle her past to save herself and her soul."
---
Late Night With the Devil
Variety additionally reports the period-set found footage supernatural horror movie, Late Night With the Devil—also starring David Dastmalchian—has been acquired by IFC and Shudder.
---
Thanksgiving
Bloody-Disgusting reports Eli Roth's Thanksgiving has been rated "R" for "strong bloody horror violence and gore, pervasive language and some sexual material."
In a separate interview with SFX Magazine (via Games Radar), Roth boasted the film nearly transcends "the far end of the hard-R spectrum."
The R-rated cut has everything I want. So you can always add more gore, but I don't feel stifled in any way, it's the far end of the hard-R spectrum, so what you're going to see in the theaters is my director's cut. The kills have to be incredibly satisfying. It has to be really scary and really fun. We've had a couple of screenings where there's screams, applause, cheers, people thinking we've gone too far…
---
Deadpool 3
During a recent interview with Wired, Shawn Levy admitted he's having trouble deciding on a final title for Deadpool 3.
No, there's no title yet. I sometimes refer to it as Deadpool versus Wolverine or Deadpool and Wolverine or Deadpool 3 With Wolvie – we've got a few titles we've been bandying about, but boy, it's a tough one.
---
Scurry
Variety has our first look at Scurry, the upcoming real time horror movie allegedly shot in a single take. Starring Jamie Costa and Emalia, the film concerns "two strangers who find themselves trapped underground when their city is attacked by a monstrous threat. Badly injured and with limited resources, they must navigate a treacherous, narrowing tunnel in hopes of finding an exit before they bleed out. Fear and desperation consume them as the threat closes in and they soon discover they have more to fear than each other."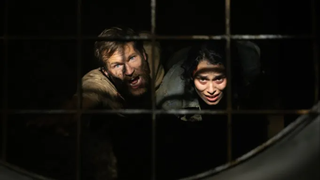 ---
Godzilla Minus One
Bloody-Disgusting also has a new U.S. poster for Godzilla Minus One.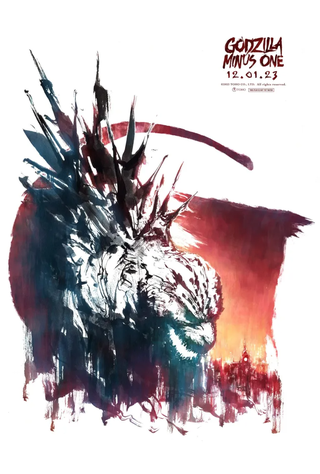 ---
Kingdom of the Planet of the Apes
A full trailer for Wes Ball's Kingdom of the Planet of the Apes is expected to release sometime later today.
---
Ghostbusters: Afterlife
Likewise, the official Ghostbusters Twitter page promises "something strange is coming soon" in a new teaser for Ghostbusters: Afterlife.
---
The Hunger Games: A Ballad of Songbirds and Snakes
The games begin in a new clip from The Ballad of Songbirds and Snakes.
---
A Creature Was Stirring
A mother keeps her daughter constantly drugged in order to repress her monstrous nature in the trailer for A Creature Was Stirring, starring Chrissy Metz and Scout Taylor-Compton.
---
Family Switch
Netflix has also released a full trailer for McG's new Christmas-set body swapping comedy, Family Switch, starring Jennifer Garner and Ed Helms.
---
Fright Krewe
According to Variety, Kright Krewe has been officially renewed for a second season at Hulu and Peacock.
---
The Bad Guys: A Very Bad Holiday
Finally, the cast of The Bad Guys return for a new Christmas special this November 30 on Netflix.
---
Want more entertainment news? Check out when to expect the latest Marvel, Star Wars, and DC releases, what's coming to cinemas in Australia this year, and everything streaming this month across all platforms. Check out our dedicated Entertainment tab for more. 
---
The Cheapest NBN 50 Plans
It's the most popular NBN speed in Australia for a reason. Here are the cheapest plans available.
At Gizmodo, we independently select and write about stuff we love and think you'll like too. We have affiliate and advertising partnerships, which means we may collect a share of sales or other compensation from the links on this page. BTW – prices are accurate and items in stock at the time of posting.